A look at the most significant and what was not known during the night of the Oscars 2013. Tears, joys, surprises, screams, applause and music, lots of musical performance that had something quietly to emcee Seth MacFarlane and he could not show off everything he wanted with his sense of humor. This is the Oscars Awards 2013.
There were three and half hours of ceremony at the Dolby Theatre in Los Angeles, for the nostalgic former Kodak Theatre, which some found it quite fun and for others it was very, very long. But everyone was warned that programming the 2013 Oscars Awards would have a duration of between 3 and 4 hours. For artists the ceremony had to be quite long. Winners and losers had to continue the party elsewhere in Hollywood or Los Angeles before Oscars.
By now we all know what was the big winner of the night with the award for Best Picture, "
Argo
" by
Ben Affleck
. Something that was not a surprise because many had their willing to bet that this movie was the big winner with the film "
Life of Pi
" by Taiwanese director
Ang Lee
. People who would not have done them much grace were
Iranians
who have strongly protested against the argument of "
Argo
".
Who yes would do much grace was the First Lady of United States, Michelle Obama, the big surprise of the night and the charge of publicizing the winning film and for a moment become an actress of the cast of golden statuettes while she opened the envelope behind of the big screen. To introduce the First Lady nothing more and nothing less than a luxury actor, Jack Nicholson.
People who were not in high spirits were the employees of the company Rhythm & Hues in charge of visual effects for "Life of Pi", while inside theatre gave the Oscar for Best Special Effects for the film, off campus they was protesting because of bankruptcy in early February and leave without pay to its nearly 400 employees. This company has behind him not one but two Oscar to "Babe" in 1995 and "The Golden Compass" in 2005, and is responsible for films like "X-Men" and "Superman Returns". Furthermore, for this year 2013 have left a dozens of films that they should take care of the special effects.
Which itself was a great joy was to British singer
Adele
who won the Oscar for Best Original Song for "
Skyfall
". A great gift for the James Bond saga and his 50-year history. Delighted us with a live performance after being retired a year ago for personal reasons that everyone knows.
The big surprise of the night, but it was not, would have provided the presenter of the ceremony, Seth MacFarlane, if he had won the Oscar for Best Song for "Ted" as he was nominated for this film. It would have been the first in the history of the Academy Awards ceremony that master collects his own reward.
On with the surprises, this time it's the turn for the Oscar for Best Sound Editing in which there has been a tie. Jurors have agreed to two films, "Skyfall" and "Zero Dark Thirty", were shared the gold statuette. Not the first time that this has happened in the history of the Oscars but not seen a draw for some 44 years. The last time was in 1969 when Katharine Hepburn for "The Lion in Winter" and Barbra Streisand for "Funny Girl" were distributed to Uncle Oscar.
The Oscar for Best Leading Actor was to the British
Daniel Day-Lewis
for his role in "
Lincoln
" by
Steven Spielberg
. We do not know if he has repented of having collected the award and if he will be returned to the Academy. We do know that the actor before winning his third statuette, twice rejected the role of
President Lincoln
. Steven Spielberg had to change the script of the film three times until convinced him. So that there is not a simple anecdote Spielberg has commissioned to unveil the first letter of the actor refused to play the title role.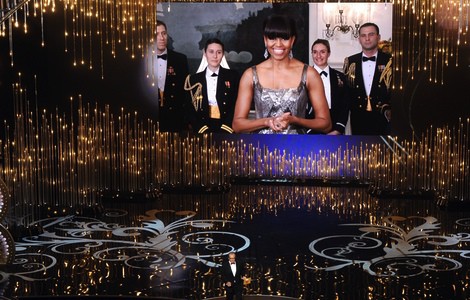 Yes, of course, we will also talk about the presenter, Seth MacFarlane. Everyone expected him to do some of his follies or he was accompanied to any member of "
Family Guy
" dressed in tuxedos and evening gowns, but it was not. For some, MacFarlane was not up to the level of the Oscars and his jokes were not as funny as expected. For others, of course, was the opposite. He took a touch of acid humor to the ceremony, besides daring to dance and sing. Everyone has their preferences when choosing a presenter.
Seth had jokes and comments to almost everyone. MacFarlane did laugh the actor Tommy Lee Jones to whom he dedicated his first joke: "And the challenge for Tommy Lee Jones laugh starts now". He danced and sang in a short musical with the song "We Saw Your Boobs" dedicated to several actresses who have left display their feminine attributes in several films. Examples like Charlize Theron in "Monster", Penelope Cruz in "Vanilla Sky" or Kate Winslet "in every movie of her films". Some of those actresses were literally open-mouthed. He had a review for the Film Academy for Ben Affleck that he not being nominated for Best Actor: "Argo was based on a story so secret that even its director is a stranger to the Academy". A joke quite wrong when MacFarlane, we do not know if he wrote the whole script, had an unfortunate detail with actors Javier Bardem, Penelope Cruz and Salma Hayek, who presented the award for Best Production Design: "Now is when they appear and we did not know anything about what they say, but we do not care because they are very attractive".

A special memory for the Colombian actress Sofia Vergara who had to go to the ceremony and give one of the Oscar but she has had to stay in bed because of the flu, she herself has commented on her Twitter account. And a special mention for technicians and plumbers who have been achieved that the hall of Dolby Teather has not become in a big lake. Hours before the ceremony there was a broken of a water pipe in the women's toilets.
Three hours to be able to sit in a chair or lying in bed watching TV, sleeping quietly while artists walk on the red carpet before the ceremony, turning off the TV or listening to music or reading a good book; and even learn to cook. Ladies and gentlemen, the 2013 Oscars Awards are over.