The guys from One Direction have unveiled a new product, another more of all the ones they have on the market. The fragrance, a personalized perfume is called Our Moment. The faces of the five guys appear in the box. In order not to forget them.
Not enough with concerts or their million albums sold worldwide. It seems that not enough success with the sale of a book about the "boy band". Neither the upcoming movie about the history of these five guys. In addition, the group
One Direction
takes the market a perfume that will delight all directioners.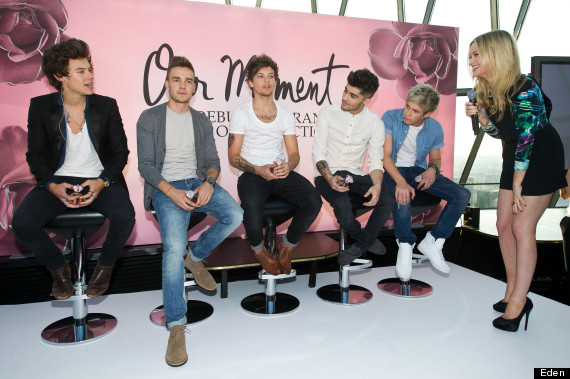 There will be leaving somewhere in the room in order to place the fragrance in a prominent place, the new perfume that have created the good guys of the British-Irish band. And you will not be able to forget about them because even the name of the perfume will cause millions of sighs during intimate moments between them, although it is a box, and the hardcore fans of the group. Its name, Our ​​Moment.
Our Moment has a very quirky form, pink and with a crown of shiny style like of the Queen of England. Additionally, the product comes in a square box with the faces of the members of One Direction.
The presentation was on 6 June in London. In this event, they presented the format of the perfume that will be of 100 ml., 50 ml. and 30 ml., and discussed some details. A fragrance in which they worked hard for 6 months to make this product unique. That no doubt. Although millions of directioners will smell all the same.
Although
Harry Styles
,
Zayn Malik
,
Liam Payne
,
Niall Horan
and
Louis Tomlinson
have already presented
Our Moment
in New York and London, the guys have also made their advertising via
Twitter
from the account of the group, posting some pictures of the box of their new perfume. Even
Niall
has dared to record a video in which promotes the fragrance while playing with the bottle.
Without any doubt, we know the fragrance will be the product of this year. But you will have to wait two months for having Our ​​Moment in your hands. Before, it will go on sale in England on August 25. In worldwide, it will go on sale from September 9. So no need to stretch your hair. But it will require that ahorréis, the prices are: $50 (38 euros or 32 pounds) 100ml bottle, $39 (30 euros or 25 pounds) 50ml bottle and $29 (22 euros or 17 pounds) 30ml bottle.
If you can not swait and you just eat your nails, you can book the perfume in the official website of
Our Moment
.